Platform "Budimo Grad" is a political group. It started as a grassroots movement on Facebook three years ago (FB group "Varaždinsko smeće" ). In 2019. the most active members of the movement established organization "Varaždin bez smeća". This civil society organization promotes transparency and openness of local governance, citizen participation and protection of the natural environment.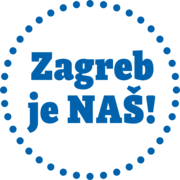 Zagreb is OURS! (croatian abbreviation ZJN) is a green-left political platform formed in February 2017 by citizens from all walks of life (activists, cultural workers, trade unionists, social entrepreneurs etc., many of whom have been previously active for years in social movements in Zagreb), with the aim of "building a new politics based on the principles of wide participation, inclusiveness and openness". Following the example of Barcelona en Comú, the Platform's policy agenda includes promoting participatory democracy and returning decision-making powers to citizens, democratizing public institutions, safeguarding quality public services such as schools and kindergartens and stopping the privatisation of public utilities such as the waste management system. The Platform envisions the future development of Zagreb as a socially just, green and multicultural city and and embraces Zagreb's less privileged and more vulnerable among us, including those impacted by discrimination based on class, age, health, ability, gender, sexual orientation, gender identity and expression, sex characteristics, nationality, language, religion, belief or lack of one, as well as other statuses and likely intersections.
Srđ je Grad is a local/municipal political party, founded in October 2020. As a political citizen initiative, we had run for the city elections in 2013, 2017. As a political party we are running for the city and county elections with the candidates for both the Mayor and County Prefect. For the County Prefect position an alliance was made between local political parties Srđ je Grad and Zaokret alongside national parties New Left and Možemo. The electoral list consists of people from all around the County, both from the major coastal and island municipalities, members of both informal and formal local initiatives. Since 2017 we have also had a representative in the County Council. In 2018 Srđ je Grad ran for the positions during the district council elections under a political citizen initiative called Dajmo Ruke.